Blackpool four-piece Darlia have recently released their latest single 'Beam Me Up', following their last single 'Ballad of Black & White'.
The song was produced by Darlia's vocalist and main songwriter Nathan Day and Frank Colucci. 'Beam Me Up' is about the catharsis of song writing. Nathan states, "I wrote this song because I can't afford a therapist. I'm lucky that writing songs is a legitimate coping mechanism".
It is clear that 'Beam Me Up' is a method of self-expression and unearthing emotions, as lyrics such as "I'm a broken doll" imply.
Nathan said, "I think no one wants to talk about how they feel cos they're scared people will judge them. Sadly, that's part of the f**king problem. I'm scared too, but this is what that songs about – so f**k it".
It seems like 'Beam Me Up' is a cry for change, for us to acknowledge people are hurting and that we need to do something about it.
Ahead of their headline tour in October, they'll be supporting 'Twin Atlantic' on their UK tour in May, and will also be playing a number of festivals including:
The Great Escape
Community Festival
Tenement Trail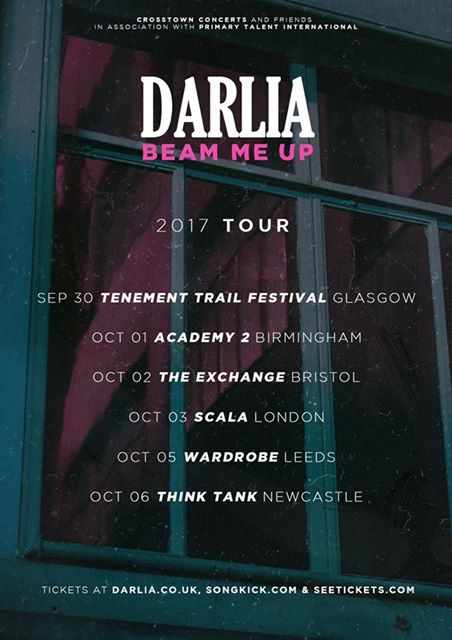 Written by Harriet / @yellowdaffodilx